Revelle College 50th Anniversary, 2014-2015
To create a new world, we must first create within ourselves a higher concern for good, a stronger will for right action, and a deeper sense of brotherhood


Alumni Weekend ~ Revelle through the Decades
June 5, 2015
Revelle Alumni through the decades celebrated UC San Diego Alumni Weekend on Revelle Plaza. Guests danced to the tunes of Night Shift, enjoyed UCSD Catering's specially-crafted fare, and enjoyed the company of classmates. Guests recognized and celebrated Revelle College Alumni, Staff Alumni, Founding and Emeriti Faculty, Current Faculty, and Graduating Seniors and their common Revelle experiences through the decades. Roger Revelle's children and grandchildren joined in the festivities. Other special guests included Provost Emeritus Chia-Wei Woo, who came all the way from Hong Kong to speak at the event.
Charter Class reunited in Celebration of Roger Revelle's Birthday
March 13, 2015
On the event of Roger Revelle's 106th birthday, members of the Class of 1968 reunited at a reception and symposium in honor of Roger Revelle and his legacy. The reception on the patio of Galbraith Hall provided an atmosphere complete with music by the Danny Green Jazz Band and an excellent menu choice by UC San Diego Catering, the perfect meeting place for members of the Charter Class and Alumni from across the decades.
Founding faculty Walter Munk, Mel Green, and Charlie Perrin; former provosts Tom Bond and Don Wayne; and Professor of Oceans and Atmospheres at Scripps Institution of Oceanography Sarah Gille gathered together in the Galbraith Hall Auditorium to bring Roger Revelle's story alive.
Photo: Erik Jepsen/UC San Diego Publications
Revelle Celebrates UC San Diego Founders Weekend
November 14, 2014
On Friday, November 14, Revelle and Warren Colleges were spotlighted at the Alumni Affairs Founders Day Booth. Attendees entered a drawing to win a retro-bike and wrote well-wishes, memories, and Happy Birthday notes on message walls. Alumni Affairs created a Memory Lane to share the histories of Revelle and Warren Colleges. Guests answered 1964 and 1974 trivia questions as well as trivia questions about each college. The winners chose from an array of retro-candy! Alumni and Founding Faculty were presented with a gift of historical image postcards and other college-oriented gifts. The Booth was named "Best of the Founders Festival" for 2014!
Re-opening Celebration and Dedication: 64 Degrees
October 9, 2014
Over 250 Revelle community members gathered for the dedication of the college's renovated dining hall, Sixty Four Degrees, and to kick off Revelle's yearlong 50th anniversary celebration. Guests were welcomed, Matthew Xavier, '84 shared memories of his time at Revelle and Soren Nelson, president of Revelle College Council, shared his thoughts on the Sixty Four Degrees renovation as value added to current students, alumni, faculty and staff. Inside Sixty Four Degrees, the iconic Howard Warshaw mural was dedicated with a new plaque, honoring its historical significance to the college. Guests enjoyed tours, a taste of Sixty Four Degrees fare, the music of the Danny Green Trio (led by alumnus Danny Green, '04 and voted top jazz group in San Diego), reminiscing and looking toward the future of Revelle College.
Photo: Erik Jepsen/UC San Diego Publications
50th Anniversary, 50th Watermelon Drop
June 6, 2014
In 1965 , a Revelle College faculty member and his physics students held the first Watermelon Drop to measure the velocity of a dropped object (by its splat). As a prelude to the 50th anniversary celebration, Revelle alumni were invited back to campus to participate in the tradition. Revelle Plaza was filled with "drop-goers" who enjoyed the occasion, and the watermelon!
Photo: Erik Jepsen/UC San Diego Publications
Images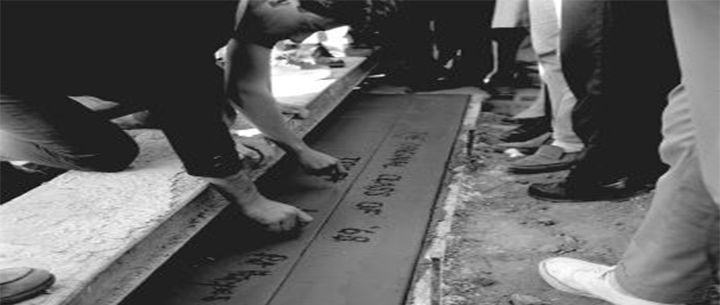 Student Signatures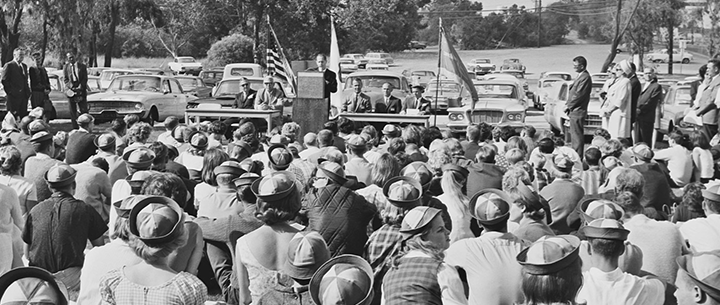 Trailblazing Class of 1968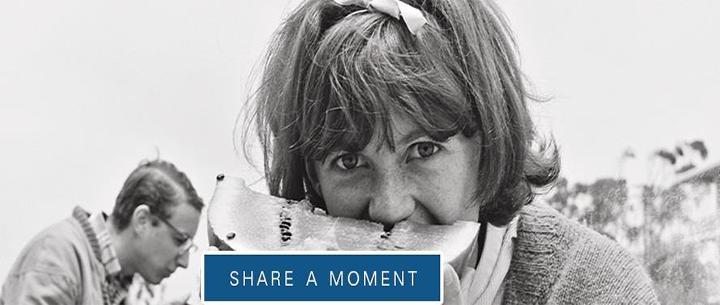 Watermelon Drop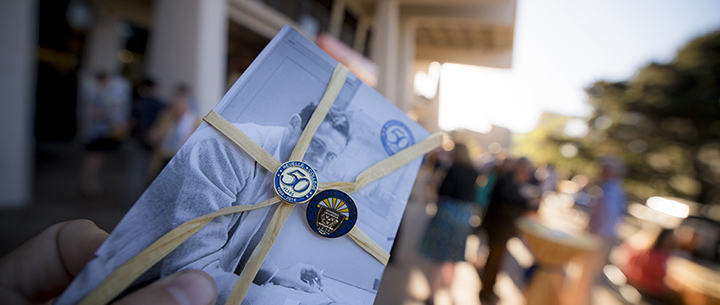 Revelle's Birthday