Conference Room and Equipment Reservations
Reservations can be made for 9:00am - 9:00pm Monday through Friday. Reservations for Saturday and Sunday may be made for 12:00pm - 9:00pm. Reservations outside of these times can be made by special exception.
Revelle College Residence Life is happy to support programming and meetings in our community through our reservation system. Our office manages the reservations for our spaces and equipment. Please be sure to read all the guidelines below prior to submitting your reservation request.
Revelle Residence Life Conference Rooms and Outdoor Spaces are NOT AVAILABLE FOR RESERVATION DURING SUMMER. Revelle Residence Life will begin reviewing reservations three weeks prior to Fall Instruction beginning and one week prior to Winter and Spring Instruction beginning. NO reservation is official until an email has been sent from the Residence Life office. Space and Equipment availability is limited.
Space Information
The Revelle Residence Life Office has six spaces available for meetings and programs:

Conference Room A (Seating Capacity 12)
Conference Room B (Seating Capacity 19)
Conference Room C (Seating Capacity 36)
Revelle Formal Lounge (Seating Capacity 39)
Anchor Lawn
Keeling Courtyard

All of indoor facilities are wheelchair accessible. All outdoor areas have paved walkways surrounding the grass area that is reservable. 
All reservations are tentative until an event/room reservation form is completed, submitted, and confirmed. Revelle Residence Life reserves the right to make modifications to your reservation, including time and room.
Your confirmed conference room reservation will contain information on keycard pick-up.
Revelle Residence Life does not set up the technical equipment. It is up tot he users to have appropriate adapters and equipment to connect.
 Guidelines
Use of Revelle Residence Life facilities requires adherence to all University and Revelle Residence Life Policies. For a copy of the Campus and Residential Life conduct standards, please visit the UC San Diego Conduct Office.
Users are responsible for their own set-up and take down. Please return the facility to its original arrangement and condition. In your reservation please account for any setup and take down time you need.
The custodial staff will only clean, empty trash cans, and vacuum the carpet from Monday to Friday. They do not pick up trash on the tables, chairs, floors, etc. Please put wet/food items in the outside trashcans, located outside the conference rooms.
Events (including setup) may start no earlier than 9AM. Noise levels from events must end by 9PM. A reasonable noise level must be maintained at all times.
Groups reserving space are responsible for the behavior of their guests and members. It is understood that the organization promises and agrees to abide by University and Residence Life conduct standards.
Security problems will be brought to the immediate attention of the Director of Residence Life and/or Assistant Directors. If they assess personal and/or property threatened, they reserve the right to terminate the event.
Reservations must be made at least 72 hours prior to the event.
At least 24-hour notice is required for cancellation of a reservation.
Non-Affiliates - Please review our non-affiliates section for further information.
 Failure to meet these guidelines may result in revoked privileges to reserve space with Revelle Residence Life.
If you are in need of Revelle Reslife Equipment please follow the following guidelines.

Guidelines for reserving items:

1. Reservations can be made no earlier than 1 week in advance.
2. Same day reservations are not guaranteed. At the latest, reserve items by 10am the day before your weekday event.
3. For weekend programs, reservations MUST be made by 10am on that Friday.
4. You must receive an email confirmation as form of approval. Equipment will NOT be checked out to you without it.
5. Attached to the email will be a contract that must be signed and brought in when picking up the items.

Please read the email that is sent to you in detail of pickup and returning items specifics.

Other Notes:
1. Items should be returned no later than 8am the day following your reservation.
2. Any damages/missing items must be reported when you return the items or in an email follow up. Charges may apply.
3. A complete list of available equipment can be found in the reservation form. 
Failure to meet these guidelines may result in revoked privileges to reserve equipment with Revelle Residence Life.
Because the residents of the Revelle College Residence Halls pay for the use and maintenance of its common facilities, priority will be given to Revelle's registered organizations.
The following entities are considered Revelle College "affiliates." These groups will not be charged and have scheduling priority:
Revelle Res Life, including its Resident Assistant
Revelle College Administration (Academic Advising, Provost, Student Affairs)
Officially registered Revelle College organizations, including Revelle College Council
Emerging Leaders Program
Housing, Dinning and Hospitality
All other groups are considered "non-affiliates" and will be charged to utilize these spaces. Additional charges may apply for any group for damages and/or if extra clean-up is required. Please see Facility Usage Policies for complete details.
Non-Affliate groups will be charged $35 for 0-4hours, $75 for over 4 hours. Cost for the facility covers the use of the room only. Additional charges may be applied for cleaning and/or damages.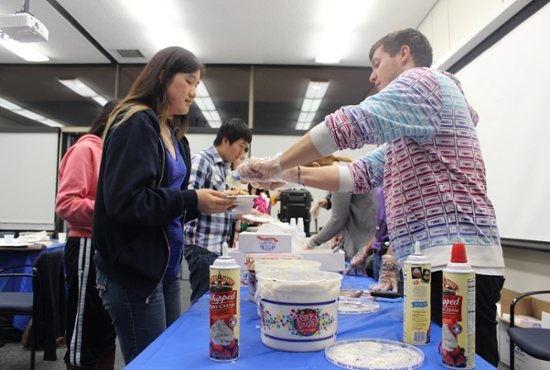 Residence Life Space Reservation
The Residence Life Office has conference rooms and outdoor programming spaces available for reservation. Please read through guidelines prior to submitting the reservation form. 
Residence Life Equipment Reservation
The Residence Life Office has equipment such as tables, chairs, audio, and board games available for reservation. Please read through guidelines prior to submitting the reservation form. The complete list of reservable items can be viewed in the form.