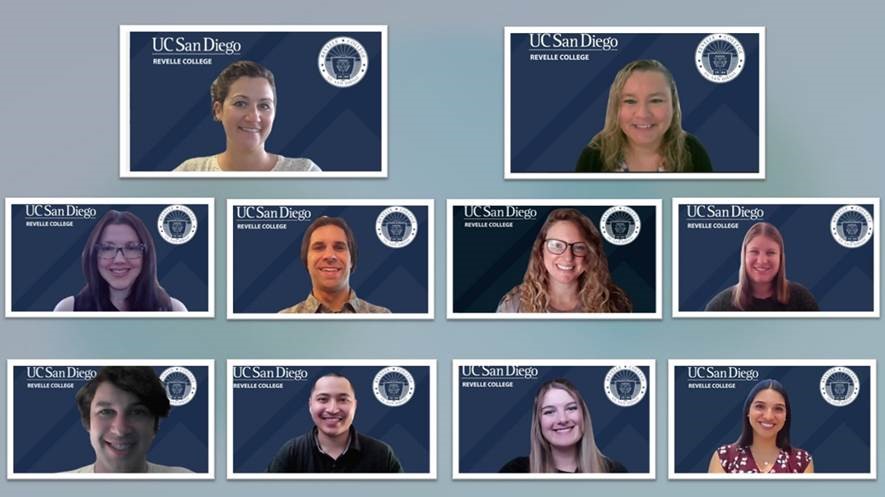 Academic Advising
Revelle Advising is dedicated to helping you achieve your educational, professional, and personal goals. We encourage you to contact us with any academic questions you may have throughout your career at UC San Diego. Please read below for more information about our services and the various ways you can connect with us.
Office Location: Revelle Administration Building
Monday - Friday, 8:00am - 12:00pm and 1:00pm - 4:30pm
During normal business hours our advising reception is available to help students with:
Understanding general policies and procedures
Submitting academic forms and petitions
Scheduling appointments
Walk-In Advising sessions are a maximum of 15 minutes and students can receive help with:
Scheduling and planning for the next quarter
Current quarter schedule changes (e.g. dropping, changing grading option)
Degree audit review
Basic GE requirement questions
Understanding College and University policies
Academic forms and petitions (e.g. Financial Aid Appeals, Concurrent Enrollment, Reduced Course Load)
Max Unit Limit questions*
How to change your major or add a minor on TritonLink
Academic deadlines
Appointments are 30-minute, individual advising sessions. Appointments must be scheduled in advance.  To make an appointment, contact the front desk during office hours at (858) 534-3490.  Students may call to request an appointment with a specific academic counselor.
Appointments are recommended for questions or concerns that may require more in-depth advising such as:
Changing or exploring majors*
Changes to overall academic plan
Concerns about academic performance/standing
Detailed information about GE requirements
Developing a four year plan (new freshmen need to wait until second quarter)
Graduating seniors/degree checks*
Transferring to another college (ICT)
Students in academic difficulty (Academic Probation, Subject to Disqualification, Academic Disqualification)
Withdrawals from the quarter/leave of absence
Readmission questions
Petitions for exceptions to requirements/University policies
Double majors*
Adding a minor*
* These advising issues could be dealt with in a walk-in session or an appointment depending on the complexity of the questions.
Current and former students can submit questions online through the Virtual Advising Center.  Students are notified via UCSD email or text when their questions have been answered.  Go to vac.ucsd.edu and click on notification preferences to receive text notifications.