Contact Us
Mailing Address
9500 Gilman Drive #0321
La Jolla CA 92093-0321
Phone: 858-534-3490
Fax: 858-534-4663
Office hours: 8:00 am - 12:00 noon and 1:00 - 4:30pm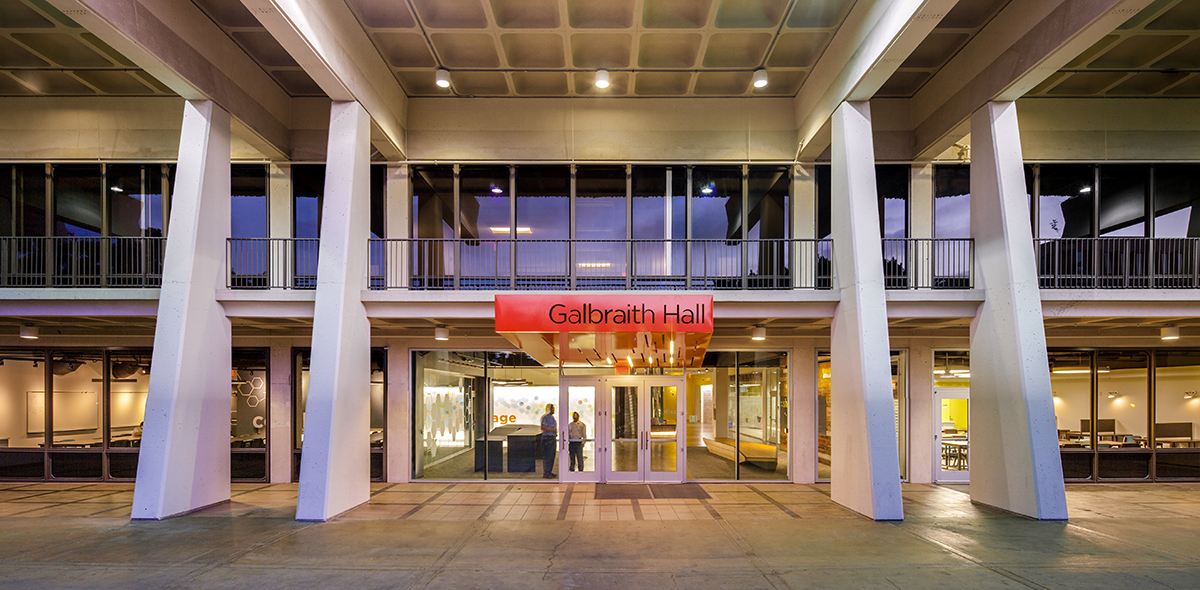 Revelle College Administrative Offices are located on the 3rd floor of Galbraith Hall, Suite 350, south of Revelle Plaza in the Revelle College campus neighborhood. The entryway to Galbraith Hall is on the 2nd level, north side of the building. Academic Advising, Student Affairs, and my Provost's Offices are on the 3rd floor.

Once inside the 2nd floor entryway, you may take the stairway in front of you up to the third floor, turn to the right and follow the hallway to our front entryway, Suite 350. Or, you may take the elevator, located behind the staircase, to the 3rd floor. When you exit the elevator, continue along the walkway to find the Revelle College Administration Office entryway, Room 350, with logo on the window.

Here is the

link to the UC San Diego campus map:

 https://maps.ucsd.edu/map/default.htm. 

Click the "Academic and Admin" selection on the left-hand navigation bar
Click the "Revelle" (yellow button) dropdown menu
Click "Galbraith Hall"

A pop-up window shows an image of the building at the 2nd level patio where the primary building entrance is found – this is the north side of the building
At the top left-hand corner of the screen, there is a "Wayfinding" button ~ click the button and use search field to find a walking path from your location to Galbraith Hall
When you enter Suite 350, you'll see hand sanitizer immediately on your left, next to the check-in station. The check-in station is an adjustable height desk. The push-button mechanism to raise or lower the table protrudes a bit from the lefthand underside of the desk.
If you're visiting us for Academic Advising, use the Fire tablet on the left side of the table to check in, or simply use your smart phone and log in via the VAC.
If you are here for other reasons, or you don't know what you need, use the Chrome Book on the right side of the table.
You'll be greeted shortly after you check in.
We look forward to seeing you during our regularly scheduled hours of operation. Please review our web pages here: https://revelle.ucsd.edu/ and on the Academic Advising page here: https://revelle.ucsd.edu/academics/index.html
Parking best available at Osler Parking Structure
Katie Michel, Dean of Academic Advising
Veronica Abreu, Assistant Dean of Academic Advising

Ashley Grove, Senior Academic Advisor

Richard Sharra, Senior Academic Advisor 
Jesselan Nehls, Senior Academic Advisor
Janean Kromka, Senior Academic Advisor
James Engler, Senior Academic Advisor/New Student Program Specialist
Vacant, Academic Advisor
Vacant,  Academic Advisor
Ruby Victoria, Assistant Academic Advisor
Phone: 858-534-3490
E-mail: readvising@ucsd.edu
Online Advising:  
vac.ucsd.edu
Sherry Mallory, Dean of Student Affairs
E-mail: slmallory@ucsd.edu
Grace Bagunu, Assistant Dean of Student Affairs
E-mail: gbagunu@ucsd.edu 
James Engler, Sr. Academic Counselor/New Student Program Specialist
Email: jnengler@ucsd.edu 
Melina M. Remesha, Coordinator, Student Activities
E-mail: melina@ucsd.edu 
Claudia J. Peña, Student Care and Accountability Specialist
E-mail: c2pena@ucsd.edu 
Vaccant, Executive Assistant, Student Affairs
Janet Lim, Assistant Program Coordinator
Email: janetslim@ucsd.edu 
Phone: 858-534-3493

Mary Tregoning, Director of Residence Life and Associate Dean of Student Affairs
Email: mtregoning@ucsd.edu
Brittney Cannizzaro, Assistant Director of Residence Life

Email: bcan@ucsd.edu
Rubia Hernandez, Assistant Director of Residence Life
Email: rjhernandez@ucsd.edu
Isabel Lopez, Residence Life Housing Assistant
Email: i1lopez@ucsd.edu 
Vacant, Program Assistant
Email: 
Phone: 858-534-3025
Fax: 858-534-3004
Mail Code: 0312
Tyler Hatchel, Ph.D, Psychologist
E-mail: thatchel@health.ucsd.edu 
Gila Cohen, LCSW
Email: g2cohen@health.ucsd.edu 
Phone: 858-534-9179
Website: http://caps.ucsd.edu/ 
After Hours: you can speak to a mental health counselor by calling 858-534-3755 and pressing option 2. If you are having an emergency, please call the UCSD campus police at (858) 534- HELP or call 911.
Angie Garcia Nevarez, Program Coordinator
Email: angarcianevarez@ucsd.edu