Academic Advising Staff
Academic Advising Staff
Shannon O'Brien, Ph.D.

Dean of Academic Advising 

Shannon O'Brien graduated from Rutgers University with a Bachelor of Arts degree in Psychology. She then earned a Master of Arts degree in Counseling from The College of New Jersey and a Ph.D. in Educational Psychology from Temple University in Philadelphia. She is also a Nationally Certified Counselor (NCC) and a California Licensed Professional Clinical Counselor (LPCC).

Shannon held various academic advising positions at both Rutgers University and Temple University before joining UC San Diego. Her research focuses on how college students' use of internet and social media impacts their academic experience. As Dean of Advising, she is dedicated to helping Revelle students accomplish their academic and career goals. Outside of work, Shannon enjoys running, biking, and strength training, watching mysteries and thrillers, and listening to all types of music.

Jane Wehrle, Ph.D.

Assistant Dean of Academic Advising 

Jane Wehrle graduated from U.C. Berkeley with a B.A. degree in Psychology. She went on to graduate school at the University of Southern California, and earned a Master of Science degree in Education. Jane then earned a Ph.D. in Counseling Psychology at the Professional School for Psychological Studies. She is also a licensed Marriage and Family Therapist.

Jane is a native of San Diego. She loves to travel and learn from other cultures.  Jane loved her own experience as a student studying abroad in Guadalajara, Mexico.  She encourages Revelle students to participate in the Education Abroad Program which students find very rewarding. Jane enjoys helping students as they progress from their first days on campus to their college graduation.

Ashley Grove

Senior Academic Counselor

Ashley holds a Bachelor of Arts in Sociology and minor in English from UCLA. As an undergraduate, she was involved on-campus and in the community, earning the UCLA Chancellor's Service Award at graduation. She completed her M.A. in Post-Secondary Educational Leadership with a specialization in Student Affairs from San Diego State University. Ashley gained experience in Special Events and Programs at UC San Diego Admissions & Relations with Schools, and then began working with students in academic advising at the colleges. She enjoys supporting students throughout their individual educational journey.

As a San Diego native, Ashley came home to beautiful San Diego after her undergraduate studies. She loves spending free time with family and friends and getting outdoors near the gorgeous beaches. Her advice for students is to find that balance between classes and co-curricular activities you enjoy and don't forget to take advantage of the infinite resources available to you at a renowned university.

Cyrus Steele

Senior Academic Counselor

Cyrus is a UC San Diego Revelle College Alumni who graduated in 2016 with two B.A. degrees in Economics and Psychology. During his undergraduate career, he was very active within Revelle College. He served the Revelle College Orientation program for four years, two years as a Revelle Freshman & Transfer Orientation Leader, and two years as one of the Orientation Interns.  In addition, he worked as Peer Advisor for the Academic Advising office for three years. He was also an FYE Discussion Leader for two cohorts of incoming Revelle freshman. In recognition of his service for the college, Cyrus was awarded the Ernest C. Mort Leadership Award and the Revelle Student Affairs Spotlight Award.  Cyrus was also involved with the dance community and was the President of UCSD's breakdancing team, Bodyrock.

Outside of work, Cyrus enjoys practicing his dance form with other members of the San Diego dance community. He loves to attend concerts with his friends and spends his days off exploring different areas of Southern California. When at home, Cyrus can be found playing PC games or catching up on his favorite TV shows. His advice for students is to step out of their comfort zone during their time at UCSD and try something new, since these new experiences can lead to wonderful opportunities. 

Daniela Blair

Senior Academic Counselor

Daniela graduated from UC Davis in 2015 with a B.A. degree in Sociology. As an undergraduate, she was a member of the Residential Hall Advisory Board, served as a Resident Advisor for two years, and served as a Senior Resident Advisor for one year. She also worked for two summers as a Resident Advisor for the COSMOS program, where she facilitated educational field trips and social programs for high school students interested in science, math, and engineering.

Outside of work, Daniela enjoys reading, cooking, hiking, and travelling. Since completing her undergraduate education, she has travelled abroad to Japan, France, Italy, Spain, and Colombia. She aspires to continue her travels and explorations of new cultures. Daniela also volunteers as a Homework Coach at the North Park Public Library. Her advice for students is to take advantage of study abroad experiences, find ways to give back to the community, build a group of lifelong friends, and develop a balance between academics and co-curricular activities.

James Engler

Senior Academic Counselor/New Student Program Specialist

James earned his Bachelor of Arts in English from UCLA and his Master of Arts in Higher Education and Student Affairs from the Ohio State University. He's been involved in higher education since starting as a Resident Assistant as an undergrad. Since then, he's served through a variety of roles and projects including career services, men's wellness, international student support, and residence life. He also sits on ACPA's Multiracial Network, an organization that advocates for and supports multiracial students and professionals. He joined UC San Diego as the Program Coordinator for Parent & Family Programs before moving over to the Revelle team in 2018. Besides his position as an academic counselor, he oversees the implementation of Revelle's Orientation programs.  

A native of Orange County (Santa Ana), James enjoys spending his free time nerding out on everything including video games, tabletop games, movies, books and even baseball. His favorite things include Disneyland day tips with his partner and teaching his son about Star Wars. His advice to students: Find your niche, whatever you can call home on campus and don't forget that you aren't alone. Everyone here wants you to be successful and we help students like you every day. Come say hi!

Rick Sharra

Academic Counselor

Rick Sharra graduated from San Diego State University with a Bachelor of Arts degree in Psychology and a minor in German Studies in 2014. During his undergraduate career, he worked for three years with the Psychology Undergraduate Advising Office as a Peer Advisor, mentored students on academic probation for one year through the "Bounce Back Program," and studied abroad in Berlin, Germany in 2012. Later, he went on to earn a M.A. in Post-Secondary Educational Leadership with a Specialization in Student Affairs at San Diego State University. During that program he got his first taste for life at UCSD through a part-time graduate assistantship as an Assistant Academic Advisor for Muir College. After a year with Muir College, Rick joined the Revelle Advising team as a full-time academic counselor in 2018.

Outside of work Rick pursues a number of passions including but not limited to surfing, rock climbing, freediving, and high-lining. He finds outlets for his creative energies by playing ukulele, woodworking, crafting, and wants to learn how to paint. He enjoys seeing students make the most of UC San Diego by getting involved in experiences outside the classroom like research, internships, and volunteer positions. His advice for students is to find your passion, what makes you excited to get out of bed in the morning, and find a way live your life around that.

Arnel Tan

Academic Counselor

Arnel graduated from UC San Diego's Sixth College with a B.A. in Sociology and a minor in Psychology in 2017. As an undergraduate, he found a passion for helping and mentoring students through his student positions. Arnel worked as a Summer Bridge Intern, OLC Mentor, Academic Transition Counselor, and Special Projects Assistant at OASIS and as a Front Desk Assistant and Peer Advisor at Sixth College. During Arnel's free time, he enjoys playing and watching sports (favorite sport: basketball, favorite team: Golden State Warriors), playing video games, working out, and watching TV and movies.

Alexandra Vargas

Assistant Academic Counselor

Alexandra Vargas is a UC San Diego alumna who graduated in 2018 with a B.S. in General Biology and a minor in Humanities. As an undergraduate, she taught as a teaching assistant and discussion leader for the Biology department, the Revelle First Year Experience Program, and OASIS. She also was a Peer Advisor, Resident Assistant, Orientation Leader, and mentor for the Global Ambassadors Program, and received the Ernest C. Mort Leadership and Revelle Senior Service awards.

Hailing from a small town in Orange County, Alex also enjoys painting, going to the movies, and watching crime dramas. She also spends her time listening to NPR Politics and curating Spotify playlists. Her advice to students is to explore fields outside their major by attending the seminars, workshops and classes available at UCSD, and to find opportunities to apply knowledge outside the classroom through discussion and research.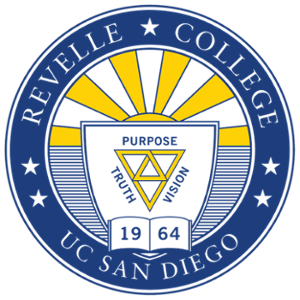 Academics