Academic Advising Staff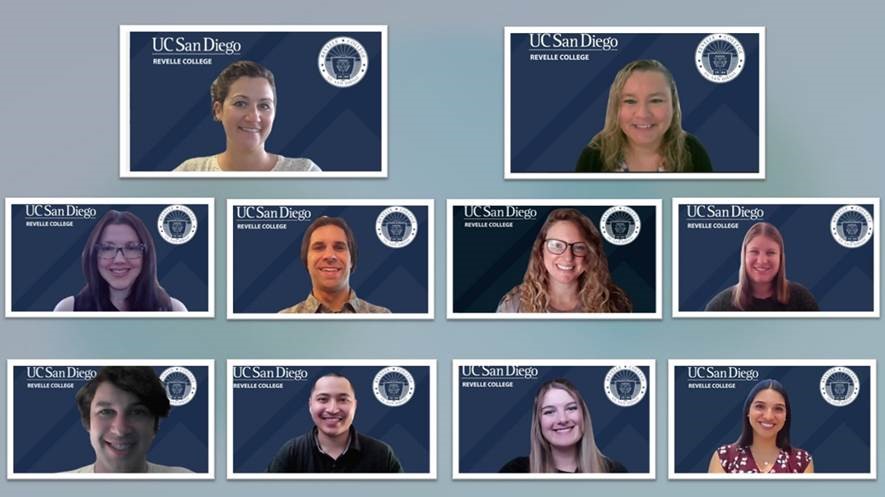 Katie Michel, M.A.

Dean of Academic Advising
(she/her/hers)


Katie graduated from the University of Notre Dame with a B.A. in American Studies and Gender Studies and later earned an M.A. in Higher Education and Student Affairs from the University of Connecticut. Katie is a first generation college student and knows how confusing the world of higher education can be. She enjoys learning students' stories and finding shared connections. Her advice to Revelle students is: You belong here! Never forget that.

Originally from rural Montana, Katie studied abroad in western Australia, taught English in southern Japan, and lived in Chicago before moving to San Diego in 2020. She enjoys traveling, hiking, trail running, and watching college football.

Veronica Abreu, M.Ed.

Assistant Dean of Academic Advising 
(she/her/hers)


Veronica holds a B.S. in Psychology from the University of Maryland University College, and an M.Ed. in Guidance and Counseling from Bowie State University. She has been working in higher education since 2011 and has a passion for developing, coordinating, and promoting academic advising initiatives that promote engagement and enrichment opportunities for students while increasing student retention and graduation rates. As a first-generation college student, Veronica understands how overwhelming starting college can be without additional guidance. So when working with students, she hopes to "operationalize the abstract." This means taking abstract ideas like "be successful" and breaking them down into small manageable and concrete steps. Additionally, Veronica is dedicated to Equity, Diversity, and Inclusion and routinely engages in these efforts whenever possible.

As a military spouse, Veronica has traveled and lived in many locations, Okinawa being a favorite. During free time, Veronica and her family enjoy fostering dogs through a local dog rescue. 

Ashley Grove

Senior Academic Advisor
(she/her/hers)


Ashley holds a Bachelor of Arts in Sociology and minor in English from UCLA. As an undergraduate, she was involved on-campus and in the community, earning the UCLA Chancellor's Service Award at graduation. She completed her M.A. in Post-Secondary Educational Leadership with a specialization in Student Affairs from San Diego State University. Ashley gained experience in Special Events and Programs at UC San Diego Admissions & Relations with Schools, and then began working with students in academic advising at the colleges. She enjoys supporting students throughout their individual educational journey.

As a San Diego native, Ashley came home to beautiful San Diego after her undergraduate studies. She loves spending free time with family and friends and getting outdoors near the gorgeous beaches. Her advice for students is to find that balance between classes and co-curricular activities you enjoy and don't forget to take advantage of the infinite resources available to you at a renowned university.

Rick Sharra

Senior Academic Advisor
(he/him/his)


Rick Sharra graduated from San Diego State University with a Bachelor of Arts degree in Psychology and a minor in German Studies in 2014. During his undergraduate career, he worked for three years with the Psychology Undergraduate Advising Office as a Peer Advisor, mentored students on academic probation for one year through the "Bounce Back Program," and studied abroad in Berlin, Germany in 2012. Later, he went on to earn a M.A. in Post-Secondary Educational Leadership with a Specialization in Student Affairs at San Diego State University. During that program he got his first taste for life at UCSD through a part-time graduate assistantship as an Assistant Academic Advisor for Muir College. After a year with Muir College, Rick joined the Revelle Advising team as a full-time academic counselor in 2018.

Outside of work Rick pursues a number of passions including but not limited to surfing, rock climbing, freediving, and high-lining. He finds outlets for his creative energies by playing ukulele, woodworking, crafting, and wants to learn how to paint. He enjoys seeing students make the most of UC San Diego by getting involved in experiences outside the classroom like research, internships, and volunteer positions. His advice for students is to find your passion, what makes you excited to get out of bed in the morning, and find a way live your life around that.

Jesselan Nehls

Senior Academic Advisor
(she/her/hers)


Jesselan graduated from the University of Wisconsin Madison with a Bachelor of Science degree in Psychology and Human Development Family Studies. She then continued on at the University of Wisconsin to earn a Master of Science degree in Educational Leadership and Policy Analysis. Jesselan has years of work experience in higher education within Academic Advising, Orientation, New Student Programs, Leadership and Involvement, Student Athletics, Student Conduct, TRiO programs, and Retention Services. She values utilizing holistic advising when working with her students to best serve their academic, social, mental, and physical well-being during their time at the University.

Jesselan is originally from Wisconsin and is happy to escape the Midwest winters thanks to her move to sunny San Diego. In her free time, she enjoys traveling, spending time with friends and family, trying new restaurants and coffee shops, reading, and watching shows on Netflix and Hulu. Jesselan's advice to students is to find time for activities in addition to their academics. Whether that be a student organization, job, internship, leadership opportunities, research, sports, or whatever else they are interested in, it is so important to be well-rounded and get out and try new things!

Janean Kromka

Senior Academic Advisor
(she/her/hers)


Janean attended community college in northern California prior to transferring to UC Santa Barbara where she earned her Bachelor's degree in Sociology.  Janean also holds a Master's degree in Organizational Management specializing in Public Administration, and an additional Bachelor's degree in Applied Behavioral Science from Ashford University.  Janean has over ten years of advising experience and enjoys connecting with students to support them throughout their academic journey.

Originally from Sacramento, California, Janean has resided in San Diego since 2010.  She loves animals, traveling, and sports – specifically the Los Angeles Dodgers, and the San Francisco 49ers.  

James Engler

Senior Academic Advisor/New Student Program Specialist
(he/him/they/them)


James earned his Bachelor of Arts in English from UCLA and his Master of Arts in Higher Education and Student Affairs from the Ohio State University. He's been involved in higher education since starting as a Resident Assistant as an undergrad. Since then, he's served through a variety of roles and projects including career services, men's wellness, international student support, and residence life. He also sits on ACPA's Multiracial Network, an organization that advocates for and supports multiracial students and professionals. He joined UC San Diego as the Program Coordinator for Parent & Family Programs before moving over to the Revelle team in 2018. Besides his position as an academic counselor, he oversees the implementation of Revelle's Orientation programs.  

A native of Orange County (Santa Ana), James enjoys spending his free time nerding out on everything including video games, tabletop games, movies, books and even baseball. His favorite things include Disneyland day tips with his partner and teaching his kids about Star Wars. His advice to students: Find your niche, whatever you can call home on campus and don't forget that you aren't alone. Everyone here wants you to be successful and we help students like you every day. Come say hi!

Ruby Victoria

Assistant Academic Advisor
(she/her/hers)

Ruby is a proud UC Davis Alumna with a Bachelor of Science degree in Animal Science. During her time there, she had the opportunity to be part of a leadership organization within her college and discovered her passion for student leadership and development. After graduation, she worked for the Walt Disney World company through their Disney College Program. Ruby joined UCSD in 2018 and has worked in a variety of roles in housing. She is currently pursuing her Master's Degree in Postsecondary Educational Leadership with a specialization in Student Affairs at San Diego State University. As a first-generation Latina herself, Ruby is passionate about ensuring everyone feels supported and is successful throughout their academic journey.

Ruby is a San Diego native. After her undergraduate experience, she was excited to move to back home to sunny San Diego. During her free time, you can find her roaming the Disney parks, traveling, reading, and spending time with family.