Humanities Minor
The Humanities minor consists of seven courses from the departments in the School of Arts and Humanities: History, Philosophy, Literature, Visual Arts, Music, and Theatre and Dance. The courses selected should be from at least two of the departments, five of which must be upper-division. Courses for the minor may be taken Pass/Not Pass. You may use two courses in the Humanities sequence (HUM 1-5) toward completion of the minor. Prospective Humanities minors should consult with the Humanities adviser for approval of their program. For a detailed description of the minor, see the course catalog.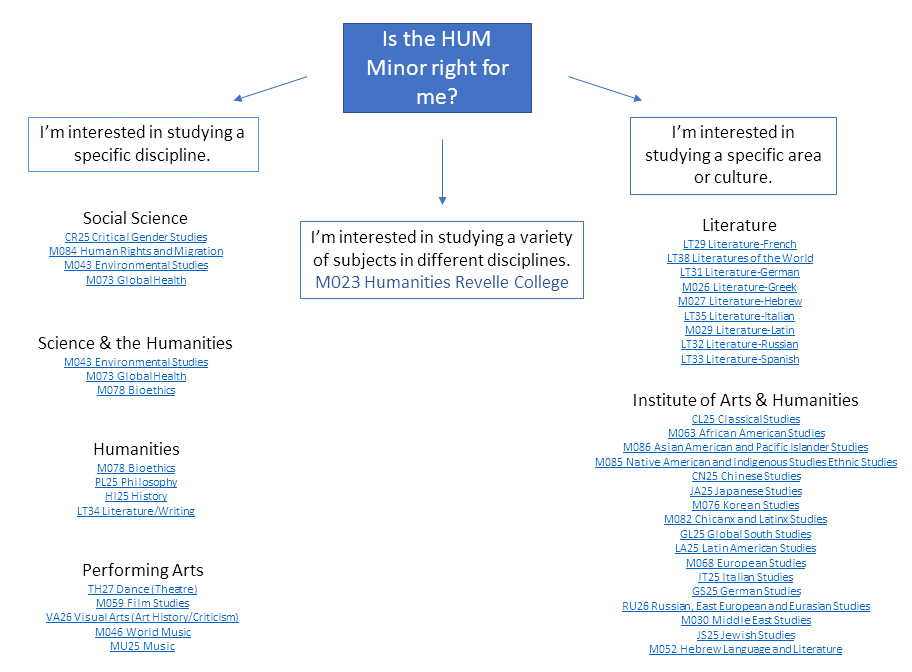 To ensure your declaration is approved follow these steps:
Review How to Declare a Minor 

Use the 

minor declaration tool

 to declare your minor. The Humanities minor code is M023. 

List seven courses in total;

 only two

courses may be

 lower division. The remaining five courses must be upper-division. I

t is also possible to list seven upper-division courses.

 It's okay if you haven't taken all the courses or if you end up taking different courses.*
*Once you have an approved humanities minor, enroll and complete all courses as listed in your petition. If any course changes, please email humanitiesprogram@ucsd.edu for approval before enrolling in a new course. The advisor will modify your petition once the replacement course is approved.