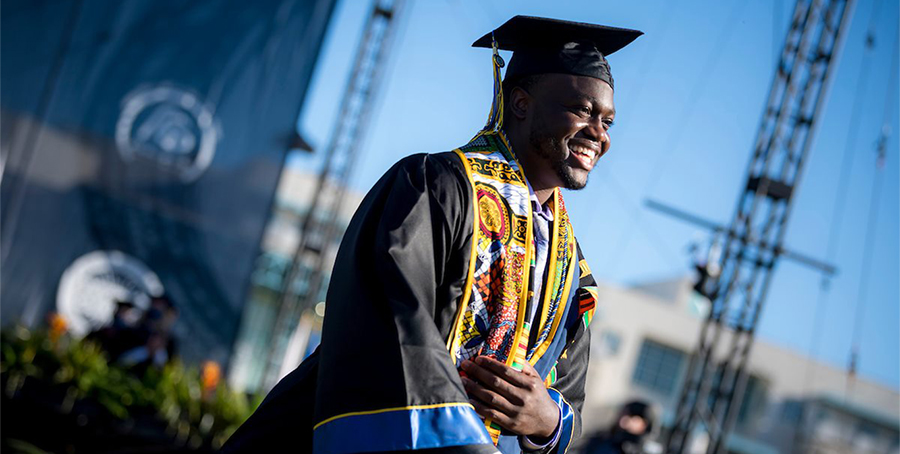 Commencement 2021
Congratulations Graduating Class of 2021! View your Revelle College Commencement Ceremony of Saturday, June 12, 2021, HERE. 
Undergraduate students must meet the standard commencement participation requirement of having at least 135 units completed by the beginning of spring quarter. Graduating seniors may check with their college to determine commencement participation and eligibility.
Revelle College does not make exceptions to the minimum 135 units. 
Contact commencement@ucsd.edu to request changes after completing your Virtual Registration at commencement.ucsd.edu. 
You need to contact the Office of the Registrar Academic Records immediately to request an official name change. Request for Change or Correction of Name form and more information can be hound HERE. 
Official name changes must be requested and completed by Academic Records by May 19 for registration tickets. Academic Records is able to update a student's name change within 7 business days after receiving your paperwork. 
Once the official name is updated, it immediately refreshes the commencement registration system. Note that official name change is for last names. A student cannot change their last name with the Social Identities Tool.
Congratulations to those of you who are preparing to graduate in June 2021. Please CLICK HERE for Graduation FAQs.  If you have any questions or need assistance, please contact the Revelle College Advising Office through the Virtual Advising Center (VAC) or by calling 858-534-3490.
College honors are awarded according to the top 14% standard adopted by the Academic Senate. The GPA range changes each academic year. To be eligible for honors, a student must receive letter grades for at least 72 quarter units of course work at a UC campus.
Diplomas are available 3-6 months after the end of the quarter in which the student graduates. Undergraduate and Graduate diplomas are mailed directly to the permanent mailing address on record in TritonLink. Diplomas will bear the student's official name exactly as stated on their UC San Diego academic record.
You will receive a UC San Diego diploma upon successful completion of the university and degree requirements, as long as a Degree and Diploma Application (DDA) was properly submitted to their college before the end of their final quarter.
Multiple degrees are listed on one diploma. Minors are not listed on diplomas.
If a diploma is not received by the end of the time allowed, contact Academic Records, at (858) 534-3144.