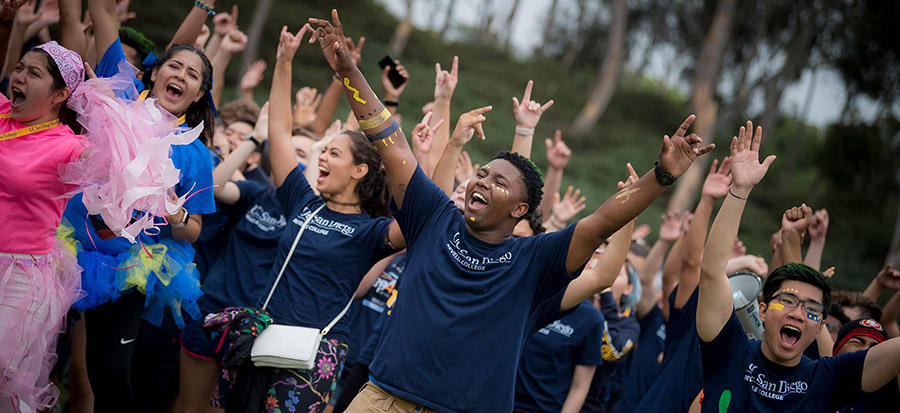 Student Life
Get tools to help navigate the University!  Check out the Revelle Tockify for the Revelle Events Calendar and the UC San Diego Mobile App that takes you around campus.
Welcome to Revelle College Student Affairs! We hope that your time at Revelle College will be exciting, memorable, and provide opportunities for you to gain invaluable skills and experiences that will serve you at UC San Diego and beyond.
The Revelle Student Affairs Staff is committed to supporting and enhancing students' out-of-class experience at UC San Diego. We advise Revelle student clubs and organizations, collaborate with students in planning special events, coordinate programs and activities, and advise students on a wide range of interests and matters.
We encourage you to take advantage of the many opportunities available to you at Revelle College, from our Residence Life programming, to student activities and organizations, and leadership development. Learn more by reading InfoLink (our college e- newsletter), reviewing the Revelle Events Calendar on Tockify, following us on social media, or by contacting any member of the Student Affairs Staff.
Do you have questions about getting involved, leadership opportunities, or want to connect with Revelle Student Affairs staff?
We are available remotely and in person to support you. You can reach us by phone, email, or by visiting our office on the third floor of Galbraith Hall in Suite 350 (GH-350). Please note: staff are currently working hybrid schedules, so if you want to connect with a specific student affairs staff member, contact us to schedule an appointment at:
Business hours are Monday - Friday from 8:00am - 12:00pm and 1:00pm - 4:00pm.