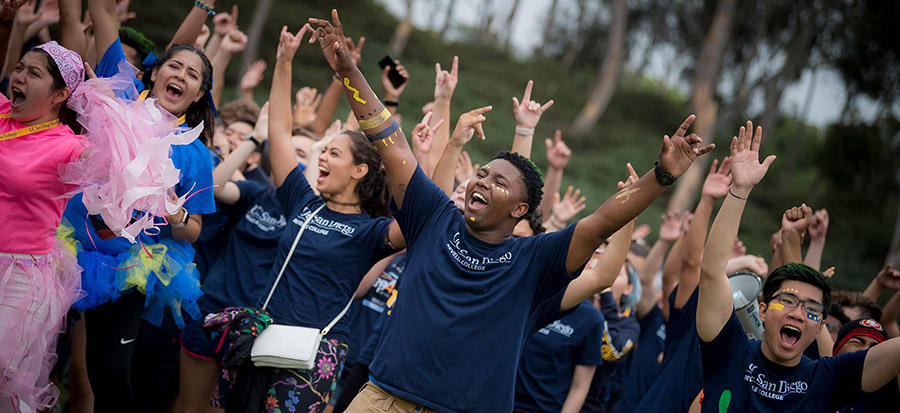 Orientation Leader Opportunity
Revelle College Orientation Leader 2022 (New & Returning) 
Serving under the supervision of the Senior Academic Counselor/New Student Program Specialist, Orientation Leaders (OLs) work with and assist the Revelle College staff in welcoming and informing new students and parents for 2022 Revelle College Orientation program. An ideal candidate for the OL position will be a student who is interested in further developing their leadership skills and can work well both independently and in a team setting.
Responsibilities include
Program Coordination: Assist College staff to implement the orientation program; develop team-building and involvement opportunities for new students and parents; assist in the evaluation of the program, as well as participate in orientation skits concerning student life at UC San Diego. Be prepared for both virtual and in-person orientation as needed
Group Leadership: lead small group discussions with peers and incoming students and parents, direct campus tours, and demonstrate effective management of group dynamics and conflicts
Role Modeling: display sensitivity to different cultures and an awareness of multiculturalism, encourage commitment to academic success, and exemplify Revelle College spirit and pride
Peer Advising: effectively communicate the Revelle College academic curriculum and provide information on student development opportunities and other university services and programs
Administrative and Logistical Tasks: assist the orientation staff with various duties including (but not limited to) orientation packet preparation, incoming correspondence, making signs, helping with set up and tear down; working at check-in tables
Demonstrate professional and appropriate relationships with students, parents/families, and other staff members during training and orientation programs
Facilitate small group discussions on campus and student life; diversity, equity and Inclusion; and college transitions
Answer student and parent/family questions, particularly concerning students life, academic requirements, students services and activities - both formal and informal aspects of UC San Diego
Set up meeting areas, run errands, staff check-in tables, establish a rapport with students
Facilitate group activities during Orientation and Welcome Week
Additional responsibilities as assigned
Additional Expectations
Communication: Regularly check UC San Diego email for updates from supervisors about the position, training, etc.
Physical requirements/special considerations of employment: some lifting of heavy boxes and moving of tables and chairs
Attending all mandatory meeting/session dates. Must be available for Spring Training and able to work irregular hours during June and Spring Orientations

Orientation Leader Spring Training – approximately 20-30 hours during Spring Quarter on Wednesdays and Fridays, 12:00 - 1:30pm, weeks 2 - 10. Anticipate meetings both in person and virtually.
2022 Orientation Dates (subject to change)
| | |
| --- | --- |
| Full-day Prep/Training | Tuesday - Friday, June 16 - 19 |
| Virtual Welcome Sessions | Tuesday, June 21 - Saturday, June 25 |
| Summer Training Saturdays | July 16, July 23, August 6, August 13 |
| Summer Break |   |
| Early Arrival/Training | September 6 - September 10 |
| Orientation Sessions | September - September 21 (may be virtual or in person) |
Compensation
Spring Training: STDT II –$14.00/hour
Orientation Sessions: STDT III - $14.30/hour (approx. 40 hours/week during session week plus meals)
1 - 2 meals are provided during each mandatory in-person orientation session day 
Qualifications
Must be registered UC undergraduate student
Must pay UC San Diego student services fees each quarter working (SP2022 UC San Diego student services fees to work summer).
Must be able to communicate effectively, function as a team member and display an awareness of and sensitivity to cultural diversity
Must have an overall commitment to Revelle College
Must be available to work irregular hours beginning June 16, 2022
Must be authorized to work in the U.S. and provide all supporting documents
Must have thorough knowledge of Revelle College and the Revelle College community.
Must have demonstrated leadership qualities as an Orientation Leader
Must be flexible and have ability to adapt readily and appropriately to the changing demands of a program, project, or assignment
Must have ability to present information clearly and accurately
How to Apply
Visit https://thecolleges.ucsd.edu/resources/orientation-leader-app.html to submit your application by January 18, 2022 at 11:59 PM. Be sure you can commit to the mandatory dates listed above.
Visit https://revelle.ucsd.edu/events/orientation/index.html  for more information about the Orientation Program.
NOTE: If you have any relatives employed at UC San Diego, you must include the name, relationship and department where employed in your cover letter. This information is used only for the purpose of complying with the University's nepotism policy