Welcome to Revelle College!
At Revelle College, we focus on you and are proud of your successes here and after graduation. You're in the right place if you like rigorous educational curriculum and opportunities, stellar faculty, engagement in college life, collaborative activities and experiences, and a diverse environment in which to live, work, and play. Current students, faculty, founding faculty, alumni, and staff share their experiences here, and, read more in Revelle Foundations, a transcript of interviews about Revelle and it's curriculum history.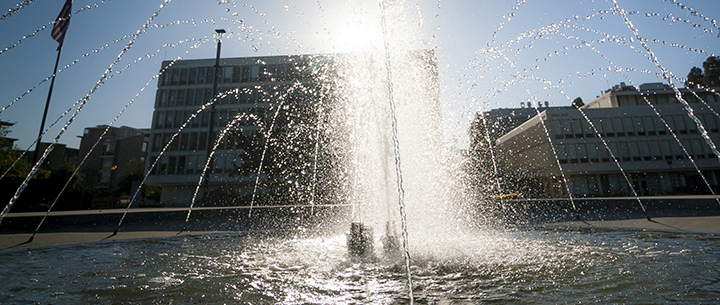 Happy Birthday, Roger & Happy Anniversary, Class of 1968!
On Friday, March 16, in conjunction with Roger Revelle's birthday celebration and Triton Fridays, Revellians were joined by King Triton and the Triton Cheerleaders on Revelle Plaza, Friday, March 16, to shape the number 50 in commemoration of the Class of 1968, the first 4-year graduating class, 50th year graduation anniversary.
Social Media Research: Public Health vs. Privacy, April 4
Michael Kalichman, Director of the UC San Diego Research Ethics Program and the Center for Ethics in Science & Technology, invites you to join Social Media Research: Public Health vs. Privacy, a talk by Tim K. Mackey, MAS, PhD., UC San Diego School of Medicine, focused on balancing the use of social media for the purpose of public health with the risks to individual privacy.
Date & Time: Wednesday, April 4, 5:00-7:00pm (5-5:30pm: refreshments)
Place: Fleet Science Center, Balboa Park, Community Forum, 1875 El Prado, San Diego, CA 92101 ~ View Map
For more information and event registration: Registration required by Apr 4, 2018. Visit the registration page for details.
All-Campus Commencement: Apply to be a Student Speaker
Applications are now being accepted for the Student Speaker for All-Campus Commencement on Saturday, June 16, at the 9am ceremony. The deadline to apply is Sunday, April 8, 2018. Learn more and apply here.
Congratulations Dean Sherry Mallory!
Please join the Division of Student Affairs in congratulating Dr. Sherry Mallory, Dean of Student Affairs – Revelle College, on her recent honor as a 2018 NASPA Pillar of the Profession.This award recognizes scholars and professionals in student affairs and higher education for sustained professional distinction and service to NASPA – an esteemed international professional association of student affairs administrators with over 15,000 members.
Dean Mallory's dedication to her students is evidenced in her playful musical performances during new student orientation and her tireless commitment to attending athletic events to support Revelle student-athletes, to name a few. She cares deeply for each student in her charge and works diligently to create and maintain a skilled team of student affairs professionals at Revelle College. When not at UC San Diego, Dr. Mallory is preparing the next generation of student affairs practitioners and leaders as an instructor in San Diego State University's Postsecondary Educational Leadership in Student Affairs master's program. Dr. Mallory is tremendously involved in NASPA Region VI, having served in various leadership capacities and representing the region at the national level.
The Division of Student Affairs at UC San Diego is extremely fortunate to have Dean Mallory as member of the team. Please congratulate her at your next opportunity.
UC San Diego: Our Community
UC San Diego Principles of Community
UC San Diego Information on Immigration ~ Immigration Policy and FAQs Update
UC San Diego Civility Statement ~ Like all public universities, our campus is home to diverse organizations, faculty, staff, and students with a wide range of interests and points of view
Undocumented Student Services Center - UC San Diego supports DACA Students
Triton Concern Line - Support students of concern
Undergraduate Writing Center - The Writing + Critical Expression Hub supports all writers on campus—every writer, any project—and promotes writing as a tool for learning
For your convenience...
Administration Building Office Hours:  8:00 am - 12:00 noon and 1:00 - 4:30 pm, Monday - Friday except holidays
Phone: 858-534-3490
CAPS:   858-534-3755
Campus Police Non-Emergency: 858-534-4357 - Dial 911 in an emergency
Revelle Social Media