Welcome to Revelle College!
At Revelle College, we focus on you and are proud of your successes here and after graduation. You're in the right place if you like rigorous educational curriculum and opportunities, stellar faculty, engagement in college life, collaborative activities and experiences, and a diverse environment in which to live, work, and play. Current students, faculty, founding faculty, alumni, and staff share their experiences here, and, read more in Revelle Foundations, a transcript of interviews about Revelle and it's curriculum history.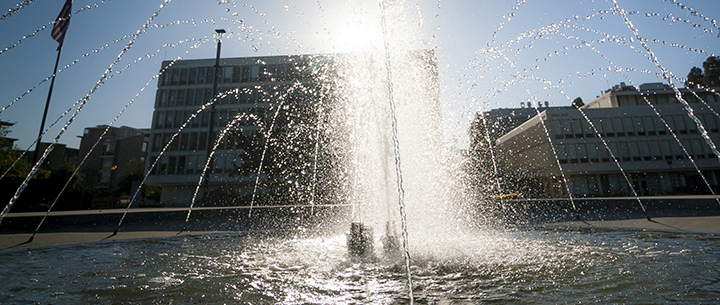 Welcome, Kate Antonovics!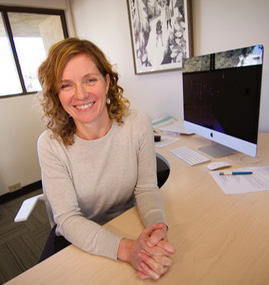 Revelle College welcomes Dr. Kate Antonovics as Acting Provost! Provost Antonovics is an Associate Teaching Professor in the Economics Department at UCSD. She received her BA from Brown University in 1993 and her PhD in Economics from the University of Wisconsin in 2000.  
Her primary research is in the field of Labor Economics.  She has written papers on racial discrimination, gender discrimination, affirmative action, intergenerational income mobility, learning, and wage dynamics. Her papers have appeared in The American Economic Review, The Review of Economics and Statistics, The Journal of Labor Economics and The Journal of Human Resources.  She is also the co-author of two introductory-level economics textbooks, Principles of Economics andPrinciples of Economics: A Streamlined Approach, joint with Ben Bernanke, Robert Frank and Ori Heffetz.
Professor Antonovics is known for her excellence in teaching, and her popular introductory-level microeconomics course regularly enrolls more than 900 students each fall. She also teaches labor economics at both the undergraduate and graduate level. She has received numerous teaching awards, including the UCSD Department of Economics award for Best Undergraduate Teaching, the UCSD Academic Senate Distinguished Teaching Award, and the UCSD Chancellor's Associates Faculty Excellence Award in Undergraduate Teaching.
We are pleased to have Provost Antonovics join us at Revelle this year and look forward to working with her! 
Annual Global Empowerment Summit: TIME TO RISE!
We invite you to attend the Annual Global Empowerment Summit 2018 "TIME to RISE!"
During the Saturday, October 6, 2018 Summit, we will explore the following topics for global change: The power of collaboration, The power of collective minds, Social impact, Global connections, Human triumph, Human trafficking, Award recognition, Peace
Through the Annual Global Empowerment Summit, we hope to motivate and mobilize local and global change makers and utilize existing mechanisms to sensitize and create awareness for critical social issues, such as human trafficking. We believe involved people working together on issues of common concern can find pathways for change, build better caring and sustainable communities, and inform our youth, women, and girls, enabling them to take positive action on societal issues. When we collaborate we build bridges. Learn more and Register here!
NSF 2026 Idea Machine and UC San Diego Office of Research Affairs Opportunity
Members of the UC San Diego community are encouraged to consider entering NSF's just-launched NSF 2026 Idea Machine, a prize competition to help set the U.S. agenda for fundamental research in science, technology, engineering, and mathematics (STEM) and STEM education. Participants can earn cash prizes and receive public recognition by suggesting the pressing research questions that need to be answered in the coming decade, the next set of "Big Ideas" for future investment by NSF. It's an opportunity for researchers, the public and other interested stakeholders to contribute to NSF's mission to support basic research and enable new discoveries that drive the U.S. economy, enhance national security and advance knowledge to sustain the country's global leadership in science and engineering.
Entries will be accepted through October 26, 2018. For more information, including entry instructions, eligibility, rules, and judging criteria, please visit the NSF 2026 Idea Machine website. 
*** UC San Diego faculty, researchers, staff, and students: Please share your Big Ideas with us in the Office of Research Affairs, as well as with NSF, by completing the form at: https://goo.gl/forms/6p1TPGser7y4LEC83. Many thanks! ***
NSF 2026 Idea Machine Working Group
National Science Foundation
2415 Eisenhower Avenue
Alexandria, VA 22314, USA
NSF2026IM@nsf.gov
Hong Kong PhD Fellowship Scheme: Apply Now
The Research Grants Council of Hong Kong is launching the Tenth Round of the Hong Kong PhD Fellowship Scheme (the "Scheme"). The Scheme aims to attract top international students to pursue PhD studies in Hong Kong's world-class research universities. The fellowship provides a monthly stipend of HK$25,100 (approx. US$3,200) and a conference and research-related travel allowance of HK$12,600 (approx. US$1,600) per year for a period of three years. 250 fellowships will be awarded for PhD studies commencing in the 2019/20 academic year.  The deadline for initial application is December 1, 2018.
 Poster: http://cerg1.ugc.edu.hk/hkpfs/Poster2019-20HKPFS.pdf
        Leaflet: http://cerg1.ugc.edu.hk/hkpfs/Leaflet2019-20HKPFS.pdf

If interested parties require further information, please feel free to contact us at HKPF@ugc.edu.hk or visit the Scheme's website at https://cerg1.ugc.edu.hk/hkpfs/index.html.  
UCUES - Tell Us More!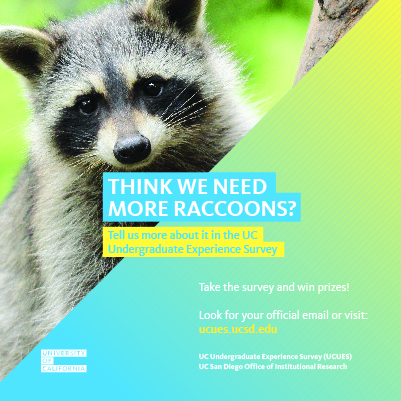 Share your voice! Tell us about life at UC San Diego and win prizes!
UC San Diego: Our Community
UC San Diego Principles of Community
UC San Diego Information on Immigration ~ Immigration Policy and FAQs Update
UC San Diego Civility Statement ~ Like all public universities, our campus is home to diverse organizations, faculty, staff, and students with a wide range of interests and points of view
Undocumented Student Services Center - UC San Diego supports DACA Students
Triton Concern Line - Support students of concern
Undergraduate Writing Center - The Writing + Critical Expression Hub supports all writers on campus—every writer, any project—and promotes writing as a tool for learning
For your convenience...
Administration Building Office Hours:  8:00 am - 12:00 noon and 1:00 - 4:30 pm, Monday - Friday except holidays
Phone: 858-534-3490
CAPS:   858-534-3755
Campus Police Non-Emergency: 858-534-4357 - Dial 911 in an emergency
Revelle Social Media