Welcome to Revelle College!
At Revelle College, we focus on you and are proud of your successes here and after graduation. You're in the right place if you like rigorous educational curriculum and opportunities, stellar faculty, engagement in college life, collaborative activities and experiences, and a diverse environment in which to live, work, and play. Current students, faculty, founding faculty, alumni, and staff share their experiences here, and, read more in Revelle Foundations, a transcript of interviews about Revelle and it's curriculum history.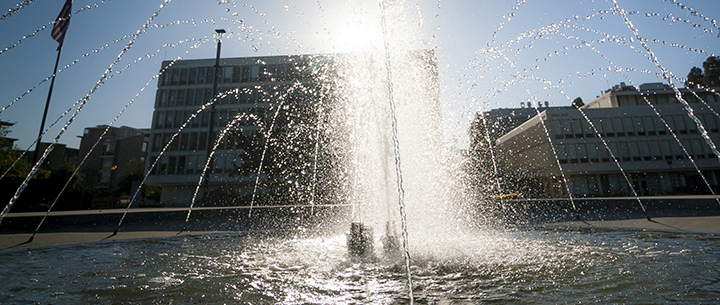 Tom Robinson, Class of 1968
Dear Friends of Revelle,
With great sorrow, I would like to convey the very sad news of Tom Robinson's passing in September of this year. He was surrounded in love by his family.
Tom had been the strongest advocate for his Revelle classmates over the last three decades. He was a very passionate spokesperson for the UC San Diego Alumni Association, which he started. He championed advancement, garnering support from many teams at the University and charted the yearlong Celebration of the 50th Anniversary of Revelle College in 2014. He came back to the campus in late June this year to join his classmates for the week-long reunion. While being frail, he was in high spirits and participated in his long-time dream in dedicating the charting class gifts to the University and to the Revelle College: the Granite Boulders (Revelle Rocks), the Oak Tree, and the fellowship of his class in generating an endowment to provide scholarships to Revelle students.
Tom was always cheerful, persistent, soft-spoken and patient. His memory will be forever cherished by the College he beloved so dearly.
Sincerely,
Paul Yu
Provost, Revelle College
Interim Dean, Graduate Division
UC San Diego CRASSH, November 6
All Undergraduate and Graduate students in the Arts, Social Sciences, and Humanities are invited to present your research (poster or performance) at the annual Conference for Research in the Arts, Social Sciences, and Humanities taking place on Tuesday, November 6, 2018 from 8:30am to 3:00pm at the UC San Diego Qualcomm Institute. Breakfast and lunch are provided. The conference is free and open to the public, but registration is required. Don't miss this great opportunity to share your research! Visit crassh.aep.ucsd.edu today. Register by October 28. Attendee and volunteer registration is also open!
Question? Contact conference coordinator Jessica Davis at jjd010@ucsd.edu
NSF 2026 Idea Machine and UC San Diego Office of Research Affairs Opportunity
Members of the UC San Diego community are encouraged to consider entering NSF's just-launched NSF 2026 Idea Machine, a prize competition to help set the U.S. agenda for fundamental research in science, technology, engineering, and mathematics (STEM) and STEM education. Participants can earn cash prizes and receive public recognition by suggesting the pressing research questions that need to be answered in the coming decade, the next set of "Big Ideas" for future investment by NSF. It's an opportunity for researchers, the public and other interested stakeholders to contribute to NSF's mission to support basic research and enable new discoveries that drive the U.S. economy, enhance national security and advance knowledge to sustain the country's global leadership in science and engineering.
Entries will be accepted through October 26, 2018. For more information, including entry instructions, eligibility, rules, and judging criteria, please visit the NSF 2026 Idea Machine website. 
*** UC San Diego faculty, researchers, staff, and students: Please share your Big Ideas with us in the Office of Research Affairs, as well as with NSF, by completing the form at: https://goo.gl/forms/6p1TPGser7y4LEC83. Many thanks! ***
NSF 2026 Idea Machine Working Group
National Science Foundation
2415 Eisenhower Avenue
Alexandria, VA 22314, USA
NSF2026IM@nsf.gov
Hong Kong PhD Fellowship Scheme: Apply Now
The Research Grants Council of Hong Kong is launching the Tenth Round of the Hong Kong PhD Fellowship Scheme (the "Scheme"). The Scheme aims to attract top international students to pursue PhD studies in Hong Kong's world-class research universities. The fellowship provides a monthly stipend of HK$25,100 (approx. US$3,200) and a conference and research-related travel allowance of HK$12,600 (approx. US$1,600) per year for a period of three years. 250 fellowships will be awarded for PhD studies commencing in the 2019/20 academic year.  The deadline for initial application is December 1, 2018.
 Poster: http://cerg1.ugc.edu.hk/hkpfs/Poster2019-20HKPFS.pdf
        Leaflet: http://cerg1.ugc.edu.hk/hkpfs/Leaflet2019-20HKPFS.pdf

If interested parties require further information, please feel free to contact us at HKPF@ugc.edu.hk or visit the Scheme's website at https://cerg1.ugc.edu.hk/hkpfs/index.html.  
UCUES - Tell Us More!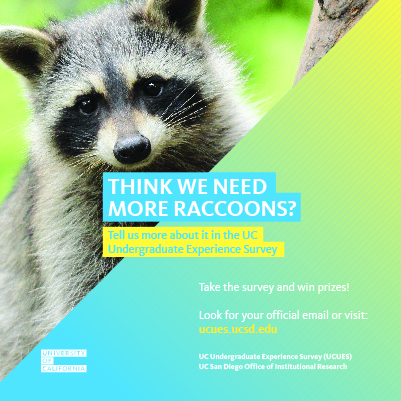 Share your voice! Tell us about life at UC San Diego and win prizes!
UC San Diego: Our Community
UC San Diego Principles of Community
UC San Diego Information on Immigration ~ Immigration Policy and FAQs Update
UC San Diego Civility Statement ~ Like all public universities, our campus is home to diverse organizations, faculty, staff, and students with a wide range of interests and points of view
Undocumented Student Services Center - UC San Diego supports DACA Students
Triton Concern Line - Support students of concern
Undergraduate Writing Center - The Writing + Critical Expression Hub supports all writers on campus—every writer, any project—and promotes writing as a tool for learning
For your convenience...
Administration Building Office Hours:  8:00 am - 12:00 noon and 1:00 - 4:30 pm, Monday - Friday except holidays
Phone: 858-534-3490
CAPS:   858-534-3755
Campus Police Non-Emergency: 858-534-4357 - Dial 911 in an emergency
Revelle Social Media