Past Events
The Humanities Program partnered with the New Writing Series this year to present two virtual poetry events in Spring 2021. Poets will read from their collections, followed by a moderated Q&A.
Matthew Zapruder
Matthew Zapruder's first book, American Linden, was published by Tupelo Press in 2002 after winning the Tupelo Press Editors' Prize. He is also the author of Why Poetry, an impassioned call for a return to reading poetry, as well as four other poetry collections, including Father's Day. His honors include the May Sarton poetry award from the American Academy of Arts and Sciences, the William Carlos Williams Award from the Poetry Society of America, a Lannan Literary Fellowship, and a Guggenheim Fellowship. Born in Washington, DC, he lives in Oakland, where he is an associate professor in the Saint Mary's College of California MFA Program in Creative Writing, as well as editor at large for Wave Books.
Purchase copies of Father's Day and Why Poetry.
Poster designed by Melanie Jaffe and Dereck Garcia.
Ada Limón
Ada Limón, a current Guggenheim fellow, is the author of five poetry collections, including The Carrying, which won the National Book Critics Circle Award for Poetry. Her fourth book Bright Dead Things was named a finalist for the National Book Award, a finalist for the Kingsley Tufts Poetry Award, and a finalist for the National Book Critics Circle Award. She serves on the faculty of Queens University of Charlotte Low Residency M.F.A program and lives in Lexington, Kentucky.
Purchase copies of The Carrying, Bright Dead Things, Sharks in the Water, and the 15th anniversary edition of Lucky Wreck.
Poster designed by Dereck Garcia.

TA Symposium
In recognition of the shift to remote learning, the Humanities Program TA Symposium featured three experienced TAs--Alexandra Parker, Ahmed Siddiqi, and Jonathan Martin--exploring this year's theme: "What Have We Done, and What Are We Going to Do?" We invited TAs, instructors, and undergraduate students to join us in learning how they conceptualize teaching, learning, and research in this changing educational landscape.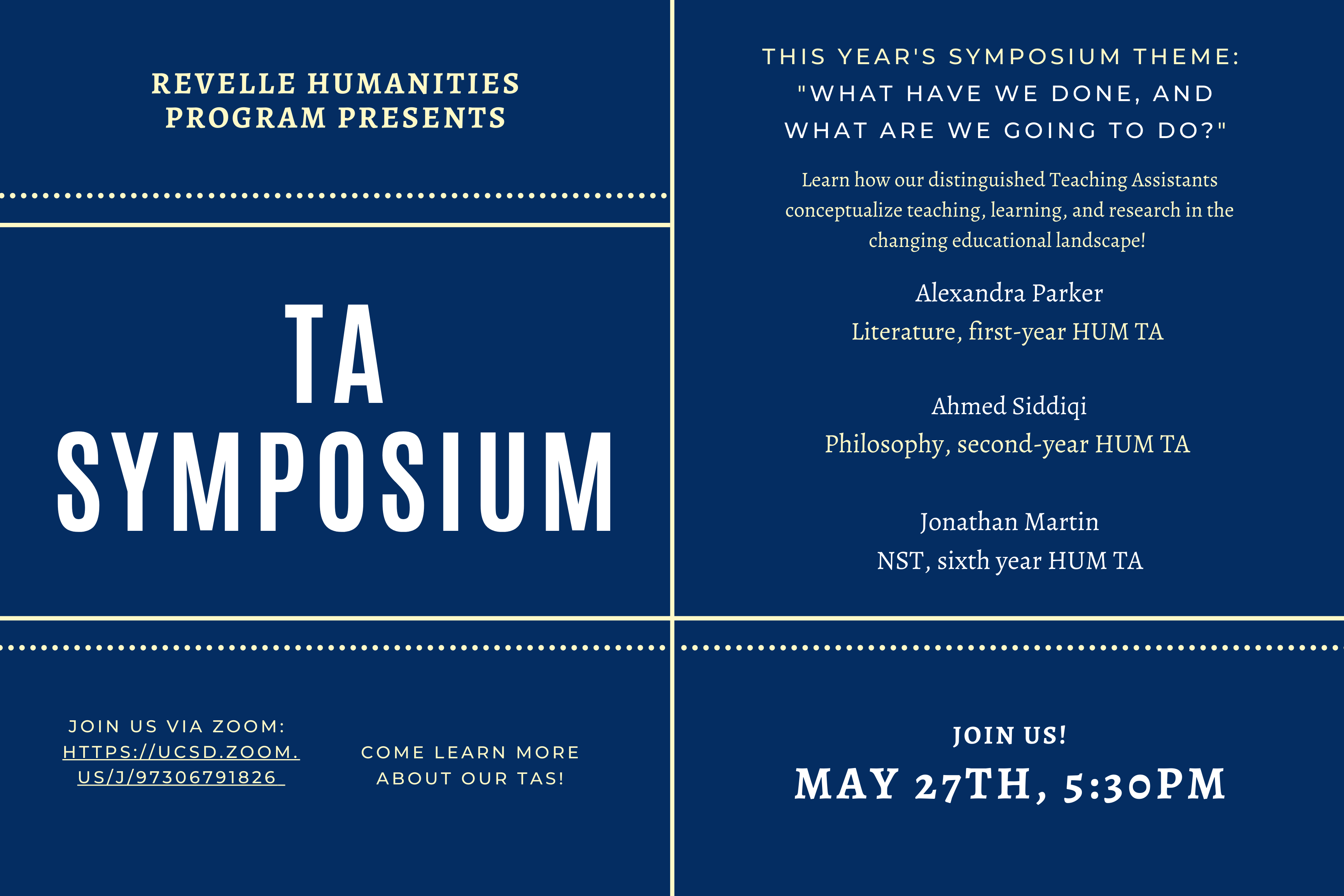 Humanities and Medicine

Dr. Natalie Rodrigeuz, UC San Diego undergraduate and School of Medicine alumni and Associate Director of the San Diego Student-Run Free Clinic spoke on her connection to the humanities and how it informs her work as a practitioner.